So what are we all about?
We are common people on an uncommon journey of faith discovering the grace and freedom God gives real followers of Jesus.
---
We believe God is calling us to "Go Fish." This is reflected in our congregational values:

We are part of the worldwide Lutheran family of faith (over 75,000,000 strong) and since 2009 a proud member of Lutheran Congregations in Mission for Christ. Follow this link to learn more about LCMC.
Feeling like dropping by for a visit? Visit our What To Expect On A Visit page to see what it will be like. We'd love to see your smiling face!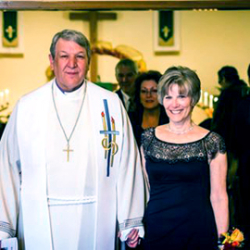 Rick Ehrheart
Pastor
During my last year at seminary, I was blessed to be able to preach regularly at Mountain of Faith Lutheran Church in Tooele, Utah. They had recently lost their pastor and were at a point where they could not support a full time pastor. But during that year, through the work of the Holy Spirit, the situation improved at Mountain of Faith. And the day after I graduated in 2009, they called and ordained me to be their permanent pastor.